Kimberly - Front Desk Manager - Veterinary Receptionist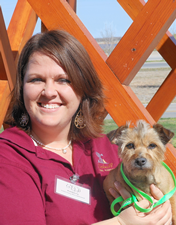 Born and raised in the Big Country, Kimberly was an active participant in FFA, showing cattle and pigs in regional stock shows. She became an Abilene resident after graduating from high school.
Her animal health care experience includes working with a major animal health supplier for 5 years, assistant herd manager for a select whitetail deer breeding farm for 3 years, and receptionist of a veterinary practice for 3 years.
She is currently pursuing registered veterinary technician licensure through Cedar Valley Community College. Kimberly's hobbies include being very active in her church, and pet sitting for friends and family. Kimberly's pets include a golden retriever ("Cooper"), a housecat ("Allie"), and a miniature dachsund ("Berkley").
Kimberly joined the Windmill Team in February, 2012.