Linda - Senior Veterinary Technician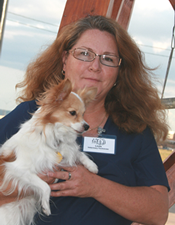 Linda arrived at Windmill Animal Hospital with over 26 years of honing her skills as a Veterinary Technician. She loves taking care of and being around pets and animals.
Linda was born in California, raised in Missouri, and finally made it to Texas and settled here in the Big Country, where she calls Abilene home. Linda and her quarter horse, Magic, are both learning the rodeo sport of team roping together. She uses these same skills to work cattle on area ranches for fun and relaxation. In fact, Linda says she loves sports of any kind that involve being outdoors.
Linda is a member of the initial cadre here at Windmill Animal Hospital and joined the Windmill Team before we were open in 2011.