Cassie - Veterinary Technician - Kennel Manager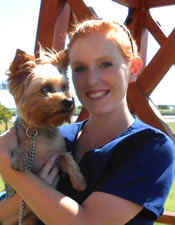 Cassie is certainly a West Texas girl! She was born in Pecos and raised in Fort Stockton. She has been in Abilene for over 10 years, and graduated from Cooper in 2011. She is currently enrolled at Cisco College, obtaining her basics. She will soon begin her major of either zoology or marine biology.
In her spare time, Cassie enjoys reading and watching addicting television shows. She shares her home with her family and pets. The pets include four kitties - George, Tolouse, Runt and Ruby; and two dogs - Harlow and Chaz.
Cassie joined the Windmill Team in June 2013