Ponnie - Veterinary Technician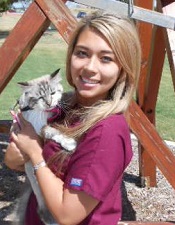 Ponnie claims both San Antonio and Abilene as "home'!. She graduated from Abilene Christian University and has ALWAYS had a passion for animals.
Ponnie likes to relax by swimming, hanging at the beach and working out (relax??? - ed.)
Ponnie shares her home with her 3 year old Ragdoll kitty, "Nala Chanel".
Ponnie joined the Windmill Team in August, 2015.