Heather - Veterinary Receptionist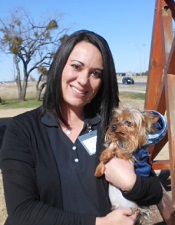 Heather comes to us from Cenla, Louisiana. She graduated from Arizona State University with a BA in Public Relations.
She loves interacting and helping both Clients and their Pets.
Heather also enjoys fishing, antique shopping, and cheering on her kids at their various sproting events!
She and her Air Force husband (Brett), share their home with their duaghter, Darian, son, Jackson, along with Rico and Tinker bell (both chihuahuas), and Spike the Miniature Pincher/Dachsund.
Heather joined the Windmill Team in January, 2016.