Aleah - Kennel Technician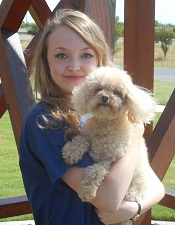 Aleah is also a native of Abilene. She has had a passion for animals since a young age. Aleah has pursued this passion and is on the pathway to become a veterinarian.
Aleah has her own YouTube channel, where she talks about animals and reptiles (http://www.youtube.com/c/cataleah). She also enjoys creating pet portraits and various other forms of art.
She has several different exotic pets, such as rabbits, Sugar Gliders and a Caledonian Gecko (just like at the Abilene Zoo!).
Aleah has one younger borther and a Texas size extended family!
Aleah says she loves working at Windmill and joined our team in July, 2016.