Chloe - Kennel Technician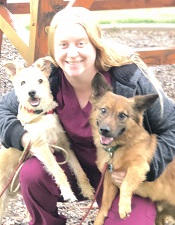 Chloe is originally from the Dallas/Ft. Worth area. She escaped the MetroMess and moved to Big Country in 2015. She graduated form Abilene High.
She spends all her free time with her son. She also shares her home with two dogs, Moozie and Bear. Chloe says she would have an entire zoo if space permitted!
Chloe says that being around amazing animals everyday is a dream come true!
Chloe joined the Windmill Team in May, 2018.