Jeff - Technician Manager / Veterinary Technician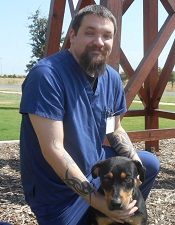 Jeff was born and raised right here in West Texas, He enjoys football, fishing, and just about anything outdoors!
Jeff is currently working on his pharmacology degree. He loves animals and says "I love doing whatever I can to help them live healthy and productive lives".
He is and his wife, Natasha have been married for over 10 years. They share their home with Sophie, the boxer and Rocco, the miniature pincher.
Jeff has practiced his veterinary technician skills for over 8 years, He joined the Windmill Team in January, 2016.