Windmill Animal Hospital - Your Premier Abilene Vet
Welcome to Windmill Animal Hospital, Abilene's premier family pet care facility. We are delighted you and your pets are interested in making us your Abilene Vet!. Our web site is designed to help you learn more about us, our veterinary practice, and the care of your pets. We look forward to serving the veterinary care needs for all of Big Country! We are AAHA accredited , assuring you that your pet will receive top-quality pet care. Come experience the finest Veterinary Clinic in Abilene Texas - Windmill Animal Hospital.
We offer State-Of-The-Art Therapeutic Laser Treatments, providing a whole new realm of pain management and faster healing.
Proper dental care can SIGNIFICANTLY INCREASE your pet's life span! Read more about the importance of proper pet dental care.
We have GREAT prices on all your pet's medicines, shampoos and supplements - Order online and experience the convenience of home delivery! Click here to visit our ONLINE PHARMACY.
Be sure and sign up for our email with Pet News and Pet Care Specials -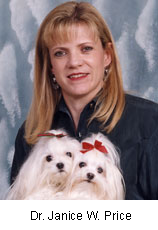 (sign up in the column to the left).
The Practice Director of Windmill Animal Hospital is Dr. Janice W. Price. Please click here to see her "waiting room resume".
THERE'S A NEW VET IN TOWN!
Dr. Price and the entire staff of Windmill Animal Hospital are proud to announce the arrival of our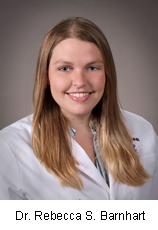 new Associate Veterinarian, Dr. Rebecca S. Barnhart. Dr. Barnhart brings a wealth of veterinary passion and knowledge to the Abilene area. Click here to read more about Dr. Barnhart.
"I just don't know what I did without Windmill Animal Hospital, they are my one stop shop now! All of the services are outstanding! You guys are the best!!!"

Carly B. - Abilene
Click here to read what other Windmill Clients are saying!
The practice philosophy of Windmill Animal Hospital doctors and staff is summed up in the following mission statement:
"We regard dogs, cats, and other pets as true family members; we believe they should receive the very best in health care, both preventive and curative. Our duty, and our pleasure, is to provide top quality patient care, thorough and thoughtful client education, and meticulous health maintenance, to ensure our patients live as long and healthy a life as is humanely possible. Anything less than a passionate dedication to excellence in achieving this goal is unacceptable."
"I was so happy with the experience I had at Windmill Animal Hospital. I felt like everyone there really cared for my feelings and the well-being of my cat Smokie. He is doing great and I have a lot of confidence in this place. I will strongly recommend to all my friends and family to go here! They really care for the animals! Very, very pleased!"

Marilou J. - Abilene
Click here to read what other Windmill Clients are saying!