The Importance of Your Pet's Dental Cleaning in Abilene, TX
When it comes to our pet's health, we often overlook the importance of dental cleaning.
The reality is that you will more than likely outlive your beloved pet. It's a sobering thought.
Good news though. We are going to show you how you could add between three and five years to your pet's lifespan.
The secret lies in dental cleaning and, as Abilene's premier family pet care facility, we are the trailblazers when it comes to great dental hygiene for your pet.
We'll show you how keeping your pet's teeth clean will help prevent some of the most common oral ailments and free them from pain which can go unnoticed.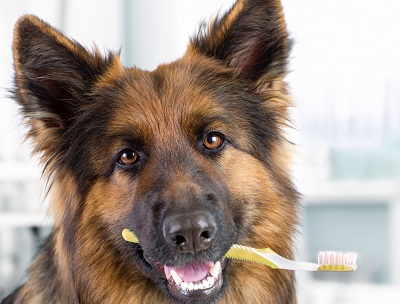 Most dogs and cats over 3 years of age will suffer from some form of periodontal disease.
This could be characterized by tartar, gingivitis, and halitosis or bad breath. All of these can also cause severe oral pain.
Those animals that are at a higher risk of periodontal disease are some breeds of small dog. They can suffer from a small, crowded or hairy mouth.
A small terrier, or one with lots of facial hair like a Schnauzer, may have a lot more problems than, say, a Labrador. They're just built differently.
Specific breeds of cats like Abyssinians, or those with snub noses like Himalayans or Persians are also at a higher risk. And, in households with several pet cats, the risks are also greater because of chronic viral infections.
Elderly pets whose mouths haven't been treated properly over the years could have the additional pain of bone infection to cope with.
Mouth infections can also stem from domesticity. Let's face it, we tend to be the providers for our pets. The teeth of wild animals do tend to be cleaner just because of what they consume as well as the way they hunt for food.
Brushing your pet's teeth at home is going to help, but sometimes this isn't always possible, especially if your pet's in pain. Cats can also just be that bit more resistant.
Over time, plaque can work its way below the gum line, pushing it away from the tooth and letting more bacteria breed in the space. The bone below the tooth can then retreat and further tissue destruction follows.
Spotting Mouth Infections in Your Pet
This is actually remarkably easy.
If your pet has bad breath, it's a sign that something might not be quite right.
Take a look under your pet's lip and look at their teeth. If you can spot unsightly tartar or inflamed gums then there is a problem.
If your pet resists their muzzle, then that could be an indication that they are in pain and suffering from an oral infection.
Annual Checks
It's vital that your pet's teeth are checked regularly. Cats and small dogs can start to show signs of dental disease from as early as nine months old.
Left untreated, throbbing pain and inflammation can stop pets from holding food in their mouths or cause them to drool more than usual. They may also use their paws to touch their mouths in a way that's not usual or even snap while being petted.
Dental evaluations are recommended at least once a year from the age of one for your cat or if you have a small breed of dog. Annual checks can start from two years old for larger breeds of dog.
Complications from Mouth Infections
Early detection and treatment are important.
Advanced periodontal disease can bring with it more complicated problems. That's on top of the pain already caused by bacteria infecting gums and teeth.
These issues are not just confined to your pet's mouth though. Poor oral hygiene can lead to serious health issues with infections spreading throughout the body.
For example, the gingivitis that comes with the formation of tartar is extremely painful. It can also transmit bacteria into your pet's bloodstream every time they chew or swallow.
Because most dogs and cats are very good at concealing pain, your pet may be suffering without you even knowing it.
The types of bacteria caused by disease in the mouth can then attack the tissues of
The heart
The liver
The kidneys
When the gingivitis becomes chronic, your pet is at a high risk of endocarditis, chronic active hepatitis, or even chronic renal inflammation.
These health issues, which all can stem from a disease in the mouth, are proven to cause early aging or premature death in our pets.
Dental Cleaning Is the Kindest Treatment
When it comes to problems like gum disease, your veterinarian will be able to recommend the treatment that's best for your pet.
Dental cleaning by a qualified professional will be a likely course of action. It's one of the kindest treatments you will ever be able to give your pet.
Not only will it curb the pain of untreated oral diseases but it can also extend the life of your pet.
It may be necessary for your veterinarian to take mouth X-rays so that they can see exactly what's going on.
Most animals don't like keeping still while their teeth are cleaned or examined. Your veterinarian may well also recommend an anesthetic. This really helps because it makes it easier to see what the problems are, and is much less stressful for your pet.
Dental cleaning, while your pet is under an anesthetic, lets the professionals make a more accurate diagnosis. It also lowers the chance of any complications, like breathing in water or even bacteria produced during the cleaning process.
Fewer Costly Treatments
The good news is that dental cleaning by a qualified professional does not need to break the bank.
If you live in the Abilene area, then you have come to the right place.
Windmill Animal Hospital specializes in offering comprehensive dental plans tailored to your pet. And, remember, if your pet's teeth are cleaned regularly, they're likely to need fewer treatments caused by unnecessary and preventable complications.
Think of dental cleaning as an investment in your pet's future.
Call us today and find out more about the treatments that are right for your pet.