Tour Abilene's Premier Veterinary Hospital
"We use Windmill for our vet, grooming and boarding needs. They are wonderful. We've had so many bad experiences and it is so nice to finally have all our needs met under one roof. And it smells good too!"
-- Kim P. - Abilene, TX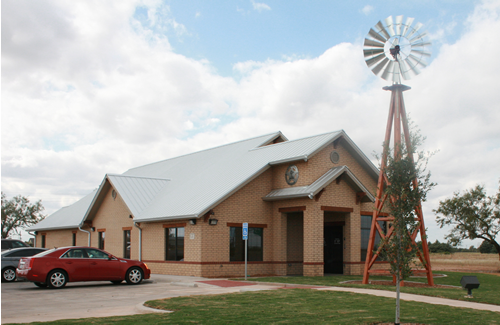 Windmill Animal Hospital - "Outstanding Pet Care"
---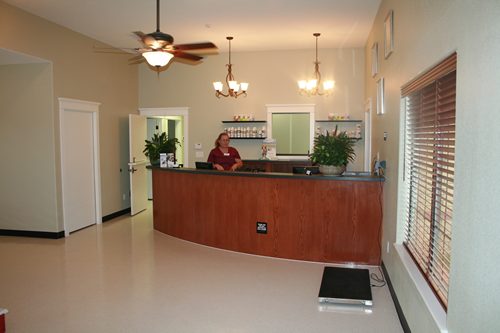 Our warm Reception area, complete with knowledgable and friendly staff, greet you upon arrival.
---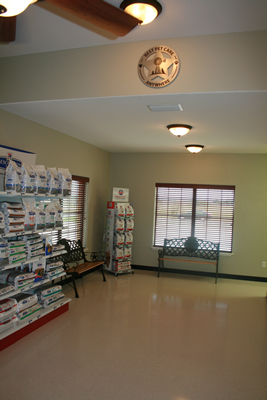 We offer a complete selection of Hill's Science Diet and Prescription Diet foods at extremely competitive pricing.

We also have a free Wi-Fi hot-spot available in our lobby and exam rooms. Please feel free to browse, text and email via the wireless network "Windmill Guest".
---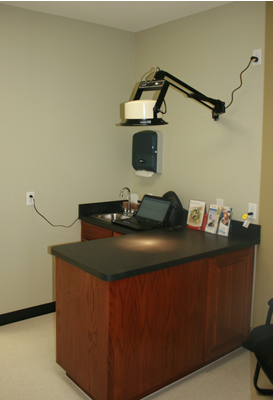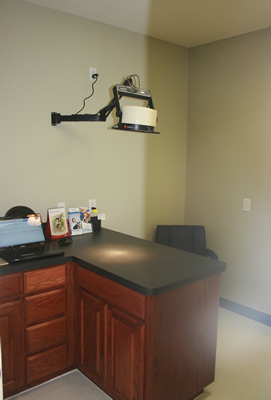 We have 3 comfortable Exam Rooms, featuring leather seating for our clients,
and state-of-the-art lighting and dignostic equipment for our patients
---
Our electric lift table provides lifting action so our larger patients can be elevated to the perfect height for thorough examinations.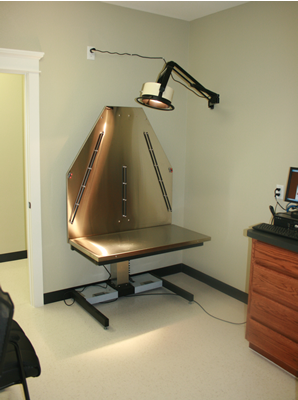 ---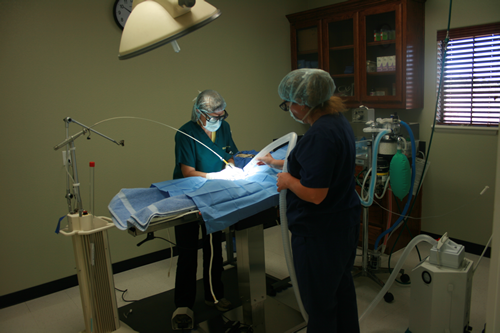 Our state-of-the-art surgical suite features our Accuvet Laser Surgical unit and the option of Sevoflorane anesthesia. The Laser Surgical unit provides surgical incisions that bleed much less than old-fashioned scalpel cuts, therefore providing the patient with a faster recovery with much less pain and swelling. Windmill Animal Hospital always has a Veterinary Technician assigned to monitor the patient's vital signs with our BioNet monitoring system. The Veterinary Technician stays with the patient all the way through anethesia recovery. Sevoflorane provides a much faster recovery for our patients, and with much less "hangover"!
---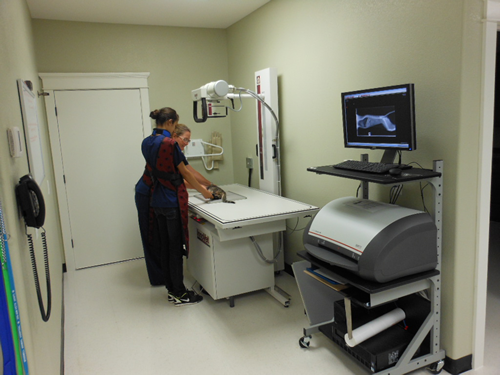 When diagnostic x-rays are needed, Windmill Animal Hospital provides them with our state-of-the-art Digital X-Ray system. No messy development chemicals nor wasting precious minutes when waiting for development during an emergency.

Our Digital X-Ray system provides our doctors and staff with unbelievably clear views of your pet's vital organs and skeletal structure. If you like, we can send you home with a CD containing your pet's radiographs to show your friends!
---
Our Treatment room features state-of-the-art lighting and patient monitoring, along with our stainless steel wet-prep table . As in surgery, all of Windmill's patients have a Veterinary Technician assigned to monitor your pet's vital signs while under anesthesia.

Here, one of our patient's is receiving a Stage IV Dental procedure.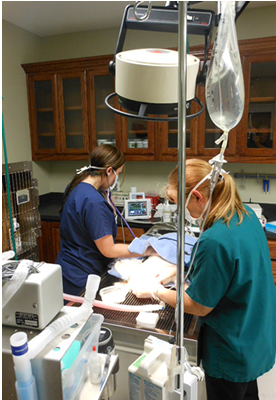 ---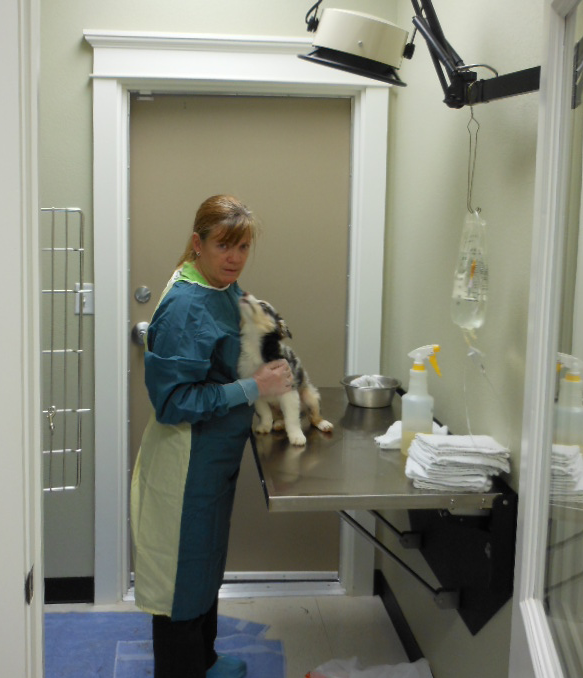 At Windmill Animal Hospital, when one of our patients is highly contagious, there is no need to contaminate the entire hospital. Our Isolation Ward, with exterior entrance, allows us to isolate the contagious patient away from other patients.

Our Isolation Ward features state-of-the-art lighting, a fold-down stainless steel examination table, comfortable stainless steel pet housing, and an exterior entry/exit for the protection of our other patients.
Here Dr. Price is working with a parvo positive puppy in the isolation ward, wearing protective garb to prevent contamination throughout the hospital.
---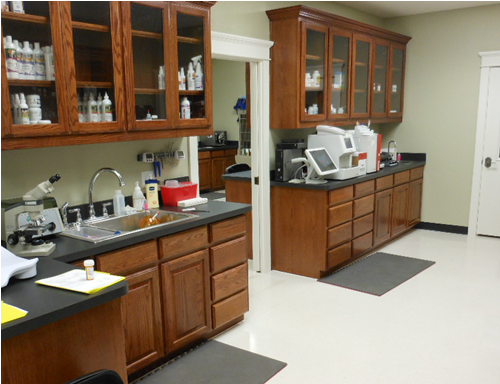 Our well-equipped medical laboratory provides state-of-the-art information about your pet's health. With an in-house lab, our patients don't have a long wait for their blood-testing results --with ill pets, every second counts!
From the most basic Complete Blood Count and Blood Chemistry profile, to sophisticated assessment of liver function or hormone balance, we are able to process most diagnostic blood tests for your pet right here at Windmill Animal Hospital.
Average turn around on results is less than 30 minutes, with a printed copy of the results sent home with you! Us humans should have it that good!
---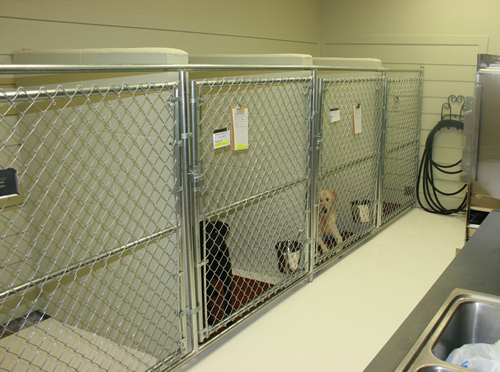 We feature indoor runs, with central air and heat to keep your four-legged family members comfortable while they are visiting with us.
---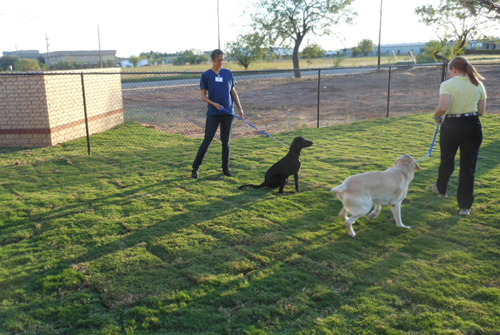 Have you ever worried about your pet escaping while being exercised when boarding? Windmill Animal Hospital features a huge back yard surrounded by a secure five foot high fence. Each of our guest and patients are hand exercised, several times per day, by our dedicated staffmembers.

Our back yard features thick, lucious turf and our secure, vinyl coated chain-link fence.
---
Click here to see "Virtual Tour" of Windmill Animal Hospital
---
Below, are pictures taken while Windmill Animal Hospital was under construction.

Construction began on April 26, 2011. We recieved our "Certificate of Occupancy" on September 15, 2011.

We were honored to provide our "Outstanding Pet Care" to our first patient, "Josphine" Robertson, on September 16, 2011.
---
September 9, 2011 - Final week of construction. Here is the front of the hospital, windmill and sign, just at dusk, before all the night-lights come on.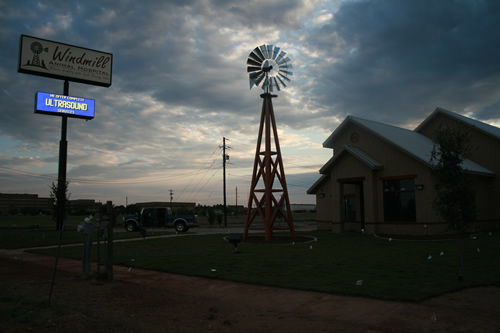 ---
September 9, 2011 - The sign and the WIndmill, and the front of the building...getting close!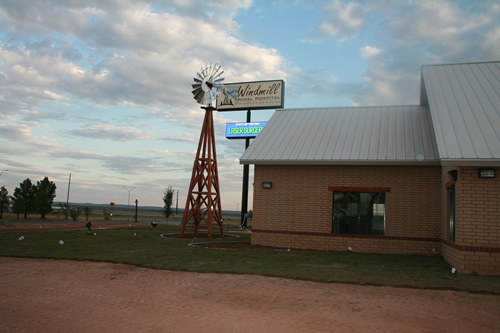 ---
September 9, 2011 - Final week of construction. Most of the Bermuda Tifway 419 turf is laid down.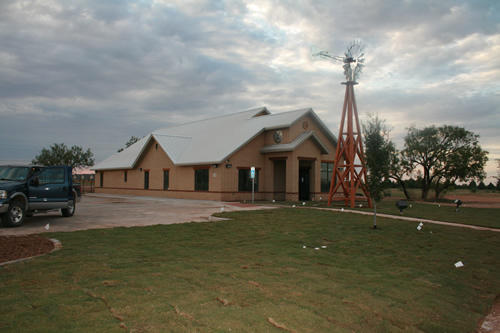 ---
August 12 - Drywall is in and textured. Cabinets and painting is next.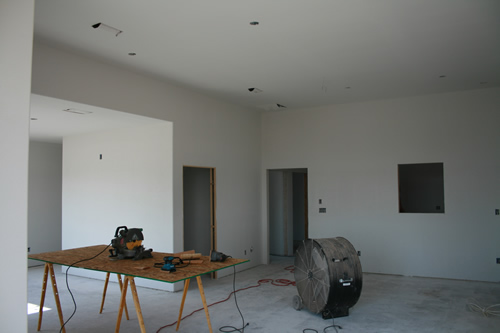 ---
August 8, 2011 - Brickwork has begun. The windmill is stained and sealed.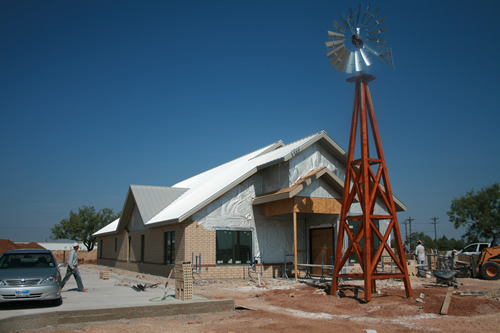 ---
July 28, 2011 - Our Windmill is HOME! A 25' cedar tower with a Aermotor 8' mill! Also, the east half of the parking lot has been poured...west half tomorrow!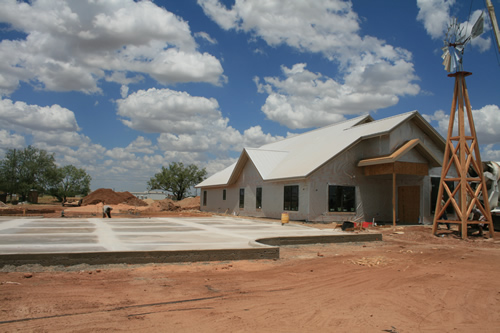 ---
July 22, 2011 - All rough-in complete - Plumbing, Electrical, HVAC, LAN, Telephone, Central Vacuum, Security Cameras, Alarm and Med-gas. Framing inspection on Monday, then immediately to insulation then sheetrock.

On the outside - Parking lot forms were started, and should be poured next Thursday. Sign was located and Windmill was located, permits received for both. The Windmill will be installed on Thursday. Brick work starts on Wednesday!
---
July, 13, 2011 - Lots of activity on the inside and outside! Roofers are finishing the standing seam metal roof and electricians and plumbers are routing all the wiring and pipes through the walls and ceilings. The central vacuum system piping has been installed. All the H.V.A.C. ducting and cabling for the computer network, telephone system, video system and security systems is being installed also. Will post pictures soon!
Brick work and parking lot work to begin this week! September 1 still looks good for an opening date.
---
July 1, 2011 - Roof Decking, Sofits, and Dupont Tyvek Therma Wrap - Progress! (see information below about Therma Wrap)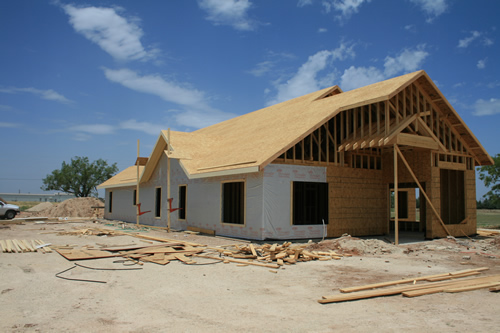 Another view...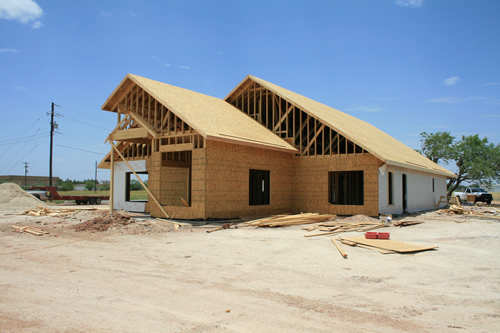 This product is new and amazing! DuPont Tyvek Therma Wrap house wrap.....adds R-2 value to the walls, acts as a radient barrier on the walls, but still allows the building to breathe. Outstanding new development in construction! The gentleman that informed us about Tyvek Therma Wrap is Rusty Holzer. You can email him at rholzer@weatherizationpartners.com, or telephone him at 806-773-8681.
When we were walking by this wall in late afternoon, we had to walk about 10 feet away as the reflected heat was so strong...that is all heat that did NOT go into the building! Highly recommended product!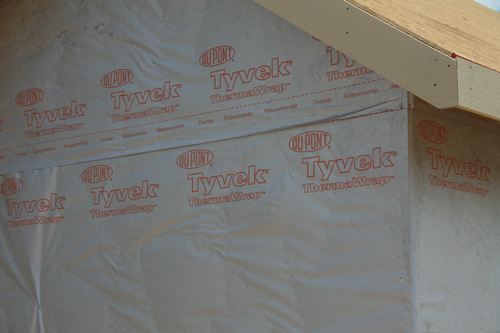 ---
June 27, 2011 - Roof almost framed - starting to look like the drawings!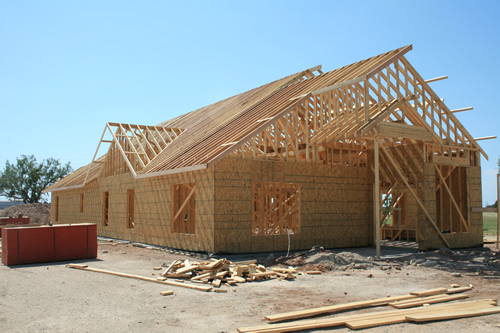 Its a TALL roof! 8 in 12 pitch - the roof will top out at about 25 feet!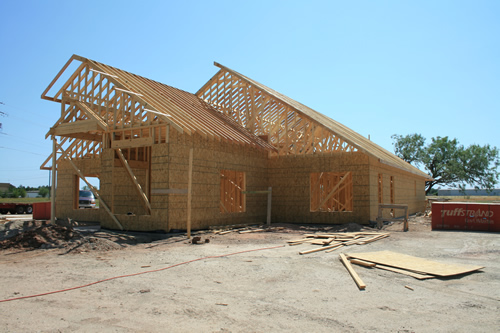 ---
June 17, 2011 - Walls framed - Roof framing started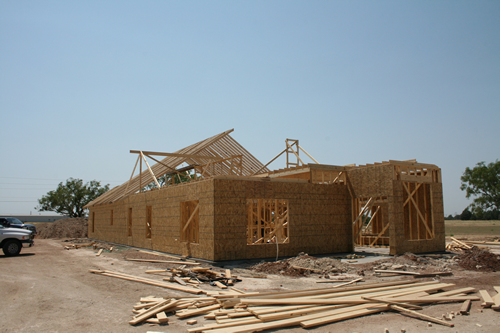 The beginning of the Gable seen from the parking lot is visible above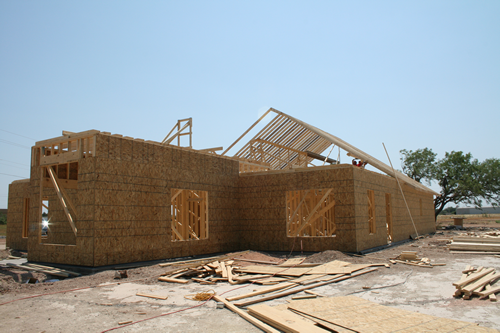 Reception and Lobby's spacious 11 foot high ceiling are visible here...the remaining ceilings are all a comfortable 9 foot high
---
June 6, 2011 - Framing has started! Walls to be completed soon.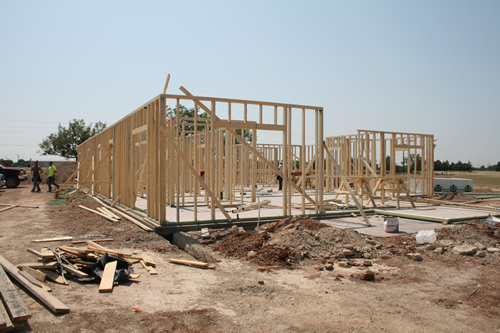 ---
June 3, 2011 - "Up and at em' early" to pour the Windmill Animal Hospital foundation.
---
June 2, 2011 - Foundation, plumbing and reinforcement steel all installed - READY FOR CONCRETE! - View from southeast corner of Windmill Animal Hospital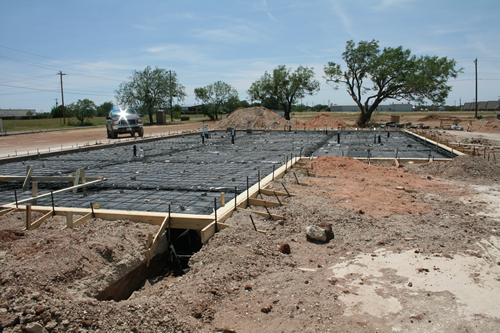 Ready for Concrete! Lots of plumbing for a State-of-the-Art Veterinary Hospital.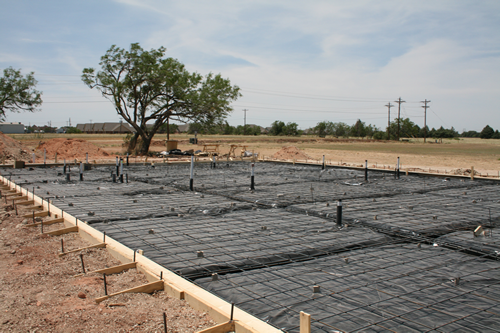 ---
May 22, 2011 - Foundation pad built, compacted and complete - foundation form boards and plumbing to be installed soon.
---
May 1, 2011 - Silt Fence is being installed on the perimeter, and lot grading is underway.
---
April 26, 2011 - The dirt has begun to fly at 2 Windmill Circle. We estimate construction completion on September 1, 2011.