Welcome to Windmill Animal Hospital, Abilene's premier family pet care facility. We are delighted you and your pets are interested in making us your Abilene Vet!. We look forward to serving the veterinary care needs for all of Big Country! We are AAHA accredited , assuring you that your pet will receive top-quality pet care. Come experience the finest Veterinary Clinic in Abilene Texas - Windmill Animal Hospital.
We offer State-Of-The-Art Therapeutic Laser Treatments, providing a whole new realm of pain management and faster healing.
There's A New Vet In Town, And Her Name Is Dr. Robinson!
Dr. Price and the entire Windmill Team are proud to celebrate the arrival of our new Veterinarian, Dr. Anna Robinson. Stop by and meet her, or
click here to read more about Dr. Robinson!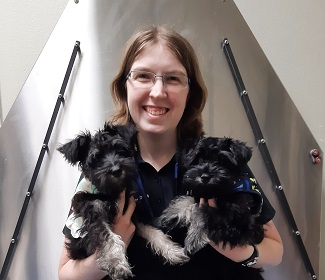 Say AHHHH! Pet Dental Care is Important!
Proper dental care can SIGNIFICANTLY INCREASE your pet's life span! Read more about the importance of proper pet dental care and our Special Discounts on Pet Dental Care!
Credit Plans Available!
Windmill offers two convenient credit plans to help with your finances!
Click here for more information on our Care Credit and ScratchPay payment plans.
Pet Emergency After Hours?
Windmill provides you after hours pet care support - 24/7. Call us at 325-698-VETS (8387)
Click here for more information on our after hours pet care support.
All Breed Grooming and Pet Styling by Jenny!
Treat your fur-baby to a Spa Day at the Windmill! Our Pet Stylist, Jenny will pamper your pet and bring out their best style! Read more about the Getting your pet to look their best!
SEE US ON TELEVISION! "and it Smells Good Too!"