Abilene Vet Services
Because your pet is family.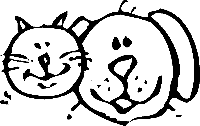 "Windmill continues to provide the most outstanding veterinary services I have ever experienced. I recommend them to all my friends. They go out of their way to make sure you and your animal(s) are taken care of and I like how you are provided an estimate and options ahead of time. " -- Kaylene G. -- Abilene, TX
This is one Abilene vet clinic that gives your pet the kind of care you'd expect for yourself, or your children. We have highly qualified doctors and nurses on staff, which allows us to spend more time with your pet, while providing concerned and affordable care. Give us a try, and see what we mean!
Full Service Hospital:
Compassionate, Dedicated Veterinary Care For:
Dogs
Cats
Reptiles
Fish
Exotics
Advanced Procedures:
Urgent Care Services
Behavior Counseling
State-of-the-Art Anesthetic Services:
Orthopedic and Other Special Procedures
Advanced Pain Management
Comprehensive Dental Care
Sevoflurane Gas Anesthesia
Complete Well-Pet Care:
Complete Selection of Heartworm Prevention
Flea/Tick Prevention Products
Convenience!:
Monday - Friday 730am-6:00pm
Saturday 8:00am-1:00pm
All Major Credit Cards Accepted!
Drops-Offs Welcome!