Janice W. Price, DVM
Practice Director/Medicine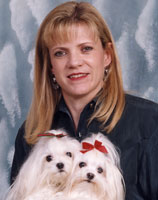 A WELL-ROUNDED EDUCATION, WITH ONLY ONE GOAL IN MIND
" I'm a native Texan. I knew I wanted to be a veterinarian when I was 3 years old. I was a National Merit Scholar at Memorial High School (Houston), and earned 3 degrees from Texas A & M University."
B.S.--Biomedical Sciences, Texas A & M, 1979 (Magna Cum Laude)
B.S.--Veterinary Sciences, Texas A & M, 1982 (Cum Laude)
Doctor of Veterinary Medicine, Texas A & M, 1984
A PASSION FOR EXCELLENCE IN PET CARE & CLIENT INVOLVEMENT
"My patients deserve, and get, the same quality of care and attention expected of a top flight physician. A crucial part of this caliber pet care is informing the clients of the options available. I use a combination of tried and true techniques with the latest in diagnostic equipment. I attend classes, workshops and seminars that not only enhance my technical skills, but my evaluative skills as well."
SPECIAL INTEREST AND IMPRESSIVE WORK EXPERIENCE
"Being the senior practitioner in a large practice, first in Houston, then in Dallas, has allowed me to treat all kinds of patients with all kinds of problems. As an active showdog breeder/exhibitor since 1978, I've always had a particular interest in allergies, skin and coat-care, and reproduction. Through extensive reading, continuing education, research and constant use, these particular interest areas have evolved into a major part of my practice. I see new dermatology patients for a second opinion on a daily basis. I work with a wide variety of top breeders, helping them solve their dogs' reproductive issues."
A REAL PET LOVER
"I raise and show AKC Champion Norwegian Elkhounds, AKC Champion German Shorthaired Pointers, have two of the cutest Maltese dogs you've ever seen, a wonderfully wild outdoor cat, three horses, and a pond full of pet Japanese Koi. Feeding time is really something!"
ACTIVE IN HER PROFESSION
"As with all my associates, I stay in touch with the profession through regular meetings and activities. Peers are an invaluable source of new information."
Member, American Veterinary Medical Association
Member, Texas Veterinary Medical Association