Dr. Russell J. Kotzur, DVM - Veterinary Associate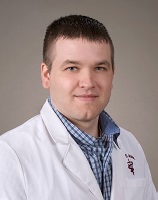 FROM A FARM IN SOUTH TEXAS, TO A WELL ESTABLISHED VETERINARIAN - NO BIG CITIES HERE

"I was raised on a farm in McAllen, Texas. I knew I wanted to be a veterinarian while active with the FFA in high school, raising show animals (market hogs and steers). Both of my degrees are from Texas A & M University."

B.S.--Biomedical Sciences, Texas A & M, 2006
Doctor of Veterinary Medicine, Texas A & M, 2011

THE PET OWNER IS AN IMPORTANT PART OF THE HEALTHCARE TEAM
"I believe that client education is critically important for successful ill-pet treatment, prevention of future health problems, and maintenance of healthy pets. The pet owner is a very important part of a pet's healthcare team. If the pet owner is not on board with a treatment or prevention plan, then it is not likely to succeed. I work diligently to develop healthcare plans to fit the pet's and the owner's best interests. The result is our patients stay healthier, and problems are caught and treated early rather than late!"

SPECIAL INTEREST
"I have a keen professional interest in veterinary dentistry and surgery. A healthy mouth is vitally important for a pet to reach his expected lifespan. I also find a great bit of satisfaction in diagnosing and successfully treating a difficult medical case."

LOTS OF ANIMALS – THEY MAKE A HOUSE A HOME!
"At home, I have 7 dogs, 6 horses, a passel of barn kitties and a variety of exotic pets, including pet snakes and bearded dragons. Home is where the critters are!"
HOBBIES AND OTHER INTERESTS
"Away from the Hospital, I enjoy spending time with my wife and children. I also enjoy hunting, fishing, bowling and radio controlled cars."
ACTIVE IN HIS PROFESSION
" Continuing Education is key to staying at the forefront of state-of-the-art pet care. I stay up-to-date through regular meetings, hands-on labs and activities. I want to continually offer the best care for my patients."
Member, American Veterinary Medical Association
Member, Texas Veterinary Medical Association