Anna R. Robinson, DVM
Associate Veterinarian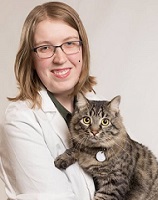 VETERINARY MEDICINE HAS ALWAYS BEEN MY CALLING
"I'm originally from Florida and fell in love with veterinary work early on in life. I traveled from there to where I could afford to go to college and made the most of any and all opportunities until the Big Country called to me. I am looking forward to being a part of a robust community once again."
B. S.- Biology, Marietta College, 2017
(Magna Cum Laude, Curriculum Honors, Phi Beta Kappa)
Doctor of Veterinary Medicine, Iowa State, 2021
LIFE IS SIMPLY BETTER WHEN WE SHARE IT WITH OUR ANIMAL COMPANIONS
"My experiences in emergency, shelter, zoo, and reservation medicine combine with a strong background in private practice to give me a seasoned perspective and a giant toolbox of skills to pull from as any situation I face requires."
SCALES, FEATHERS, HAIR OR FUR DOESN'T BOTHER ME A BIT; IF IT FITS IN THE DOOR OF THE PRACTICE, IT IS WELCOME TO BE SEEN
"I have always had a love of all things exotic and unusual. Part of what I love so much as a veterinarian is helping animals no matter what they look like or what condition they are in. Whether it is a routine vaccination for the family dog, or characterizing masses on an exotic bird, I love going into the hospital each day healing and helping no matter the situation. All in a day's work!"
I'M REALLY A SIMPLE GAL
"At home I hike, crochet, and enjoy my time keeping aquatic animals in my personalized planted tanks. My home is also the domain of two rescue cats and one crazy street pup!"
ACTIVE AND UP TO DATE IN MY PROFESSION
"A lot of incredible veterinarians and others have helped me get to this point, and without them I never would have made it. I hope to mentor new talent going forward, as a way of paying back the incredible attention given to me. When I treat animals, I am not only utilizing the knowledge I gained in school, but also the incredible depth of knowledge of all those who have taken the time to cultivate me."
Member, Association of Reptile and Amphibian Veterinarians
Member, Association of Exotic Mammal Veterinarians
Member, American Veterinary Medical Association
Member, Texas Veterinary Medical Association