Sara
Registered Veterinary Technician - Technician Manager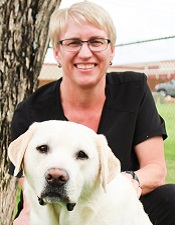 Sara was born and raised in Southern California. She recently moved from Iowa to Big Country with her husband Aaron and 2 Black Labs, Lilly and Annie.
Sara holds a degree in Animal Science/Pre-Veterinary with a Business minor from Cal Poly-San Luis Obispo, Ca.
Sara is an accomplished equestrian. She trains horses and gives riding lessons. In fact, she is a certified Therapeutic Riding Instructor!.
She also breeds and raises Labs to be Service Dogs for veterans with PTSD and kids with Autism. WOW!
Sara joined the Windmill Team in June, 2019.