Steven
Registered Veterinary Technician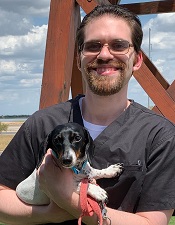 Steven was born in Rapid City, South Dakota, but got to Texas as soon as he could! He came to Big Country from Wichita Falls, where he had been a Registered Veterinary Technician for 6 years.
Steven enjoys reality TV shows and playing video games. He is also very into Football, where he is right at home having the Dallas Cowboys as his favorite team.
Steven shares his home with 4 rescued Dachsunds - Shadow, Hachi, Zoe and Taffy.
He also shares one other trait with our staff - Steven loves all animals - except SPIDERS!!!
Steven joined the Windmill Team in August, 2019.