Bailey
VeterinaryTechnician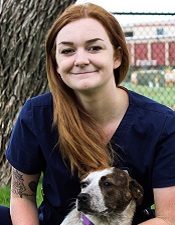 Bailey comes to Big Country from Fort Campbell, Kentucky. She relocated to Abilene to be closer to her family.
Bailey brought her weimeraner "Claire", her red heeler mix "Lyla", and her gecko "Acorn". That makes a nice family!.
In her free time, Bailey enjoys taking the dogs to the lake. She also enjoys gardening.
Bailey joined the Windmill Team in May, 2020.