Catherine
Veterinary Technician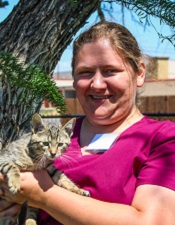 Catherine is originally from Cincinatti, Ohio, but made her way to Big Country in February, 2020.
She earned her certificate in Equine Management from Butler Tech in Monroe, Ohio.
Catherine says she is definitely a cat person, but loves all animals!
She is recently engaged (on Christmas Eve, 2019!).
Catherine shares her home with Focker the poodle mix, and Puggy the pug mix.
Catherine joined the Windmill Team in June, 2020.