Sarah
Veterinary Receptionist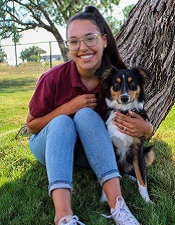 Sarah is originally from San Antonio. She is studying pre-veterinary at ACU. She wants to be a small animal veterinarian, and specialize in dentistry! (she is at the right place for great experience towards her goal!).
Sarah shares her home with "Bandit", a mini-austrailian sheperd. She enjoys her hobbies of working with clay and makeup artistry.
Sarah joined the Windmill Team in August, 2020.