Dara
Veterinary Receptionist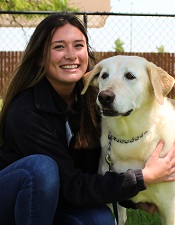 Dara was born and raised in Shawnee, Oklahoma. After graduating and getting married, she and her husband moved to Okinawa, Japan. They spent their time enjoying the island and vacationing.
After relocating to Abilene, Dara adopted her sweet dog "Buddy". Dara loves to do just about anything outdoors as well as hangout with family and friends.
Her future plans include going to school to become a veterinary technician!
Dara joined the Windmill Team in February, 2021.