Amanda
Veterinary Technician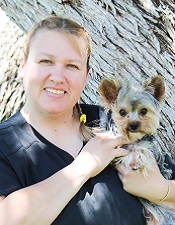 Amanda was born and raised in California. She got to Texas just as soon as she could! She and her boyfriend moved to Abilene along with their 5 children,
She loves reading, music, dance, singing, watching tv, and hanging out with her family.
Amanda shares her home with a cat named Tiggy and 2 dogs named Ryder and Monaco.
Amanda's favorite colors are Pink and Blue.
She has been in veterinary medicine since 2018.
Amanda joined the Windmill Team in June, 2023.