Pam
Veterinary Technician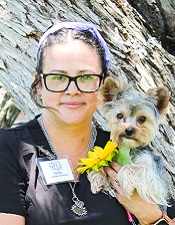 Pam was born and raised in the small South Texas town of Falfurrias. She recently moved to Abilene with her boyfriend and 3 children.

Pam has always been an animal lover. She shares her home with a 2 year old Yorkshire Terrier named Bailey.
Pam has been a veterinarian technician since 2018. She spends her spare time with her favorite hobby, photography. Pam loves photography and says "when I hold a camera the world just disappears". She also just LOVES sunflowers!
Pam joined the WIndmill Team in June, 2023.