Audrey
Veterinary Technician Assistant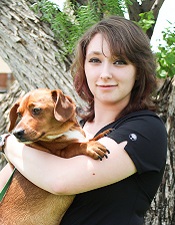 Audrey was born in Denver, Colorado, and raised in the small town of Towanda, Kansas.
She finally made it to Big Country, where she enjoys archery, reading and just about anything art related. Audrey also enjoys going on adventures with her furbaby, Bear.
Audrey says "Animals have always been a passion since I was little".
Audrey joined the Windmill Team in March, 2023.