Abi
Veterinary Receptionist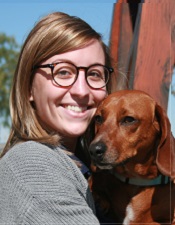 Abi is originally from southwest Virginia. She made her way to Texas in 2017 when her husband transfered to Dyess AFB.
Abi attended Virginia Tech. She is studying to be a Physical Therapist Assistant. Abi will finish her college education here in Abilene.
Abi and her hubby share their home with their 2 dogs, Mack and Molly.

The couple spends their free time hiking, camping and traveling.
Abi joined the Windmill Team in April, 2017.