Brandon
Kennel Technician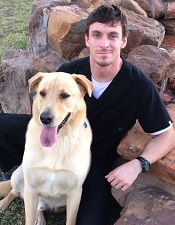 Brandon was born in San Antonio, but graduated from Brownwood High. After a joyous time in Aggieland, he graduated from Texas A&M University in 2018 with a degree in Zoology. Gig'Em!
Brandon spends his free time with hobbies like offroading, fishkeeping, reading, drawing and flying airplanes.
He loves taking care of his pets – Duncan, a Labrador Golden Retriever, and Zumbu, a Bearded Dragon. He also has fire-bellied toads and numerous fish!
Brandon joined the Windmill Team in October, 2018.