Jessica
Veterinary Technician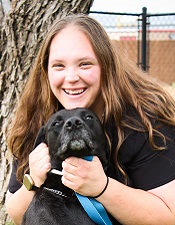 Jessica was born and raised right here in Big Country, growing up on a farm in Hawley. She graduated from Hawley High School in 2011.

In 2016, Jessica married her best friend. She and her husband stay busy raising Flemish Giant Rabbits. They show their rabbits all over Texas and the surrounding states.
Jessica says working with animals at a veterinary hospital is a dream come true because even at a young age, she loved animals.
Jessica joined the Windmill Team in April, 2019.