Dr. Rebecca S. Barnhart, DVM - Veterinary Associate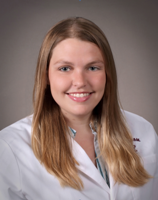 GONE TO TEXAS, ON A WELL-DEFINED PATH
"Although native to Pennsylvania, I have wanted to be a veterinarian since I was 8 years old, when my horse went through a colic surgery. I got here to Texas just as soon as I could! I went to a private university in Ohio for my undergraduate work, and Texas A & M for my master's and doctorate."
B.S. Biology, University of Findlay, 2005
M.S.Ag. Equine Reproduction, Texas A & M, 2007
Doctor of Veterinary Medicine, Texas A & M 2011
A JOYFUL APPROACH TO PET CARE &
CLIENT EDUCATION
"I believe that my clients are the best asset I have in helping our patients stay healthy. The more I can teach my clients what they need to know to prevent and recognize health concerns in their pets, the better I like it! A crucial part of this approach is taking the time, with each and every client, to make sure they have the information they need to be as well-informed as possible. The result is our patients stay healthier, and problems are caught early rather than late!"
INVOLVEMENT IN THE COMMUNITY
"I want to be active with the 4-H and local community as much as possible. I plan on doing presentations at career days at the local schools. I like to work with kids--they are the future, and absorb information like sponges!"
A FARM FULL OF CRITTERS!
"I have 3 Quarter Horses, 7 dogs, 8 bearded dragons, a sulcatta tortoise, 3 leopard geckos, a Quaker Parrot, 5 snakes, a ferret and various barn kitties. Variety is the spice of life!"
ACTIVE IN HER PROFESSION
" I stay up-to-date through regular meetings and activities. Continuing education is critical to make sure I am familiar with the latest developments in veterinary medicine."
Member, American Veterinary Medical Association
Member, Texas Veterinary Medical Association
Member, American Association of Equine Practitioners