5 of the Best Health and Winter Weather Safety Tips for Your Pet
5 Tips for Keeping Your Pet Healthy and Safe This Winter
5 of the Best Health and Winter Weather Safety Tips for Your Pet
Winter can be a challenging time of the year for some animals. Discover here five of the best health and winter weather safety tips for your pet.
Keyword(s): weather safety tips
The changing seasons bring about festive holidays, time with family, and cooler temperatures. Yet, are you and your pet prepared for what's to come this winter?
In some states, it's illegal to leave pets outside when temperatures start to drop. There are many other precautions pet owners should take during the winter season. This includes protecting your pet's health and wellbeing during colder months. 
Follow these 5 weather safety tips to keep your pet happy and healthy all winter long.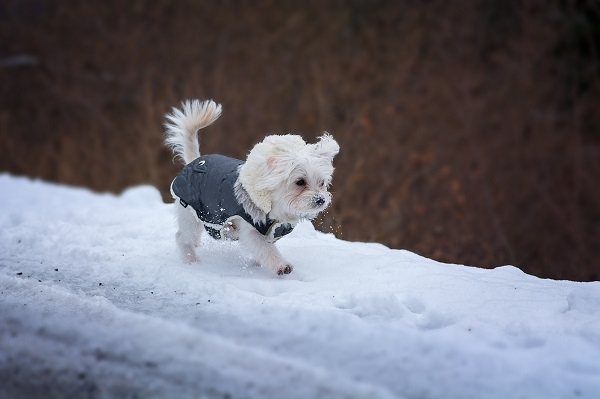 1. Protect Your Pet from the Cold
Dogs grow a winter coat to help protect them in cooler seasons. But there is still much a pet owner needs to do to keep pets safe. 
Some pets can handle being outside in colder temperatures. It all depends on their breed, coat, and age. 
This makes it important to learn your pet's tolerance level to the cold. Certain breeds can handle the cold better than others. This includes Huskies, Newfoundlands, Saint Bernards, and Alaskan Malamutes.   
Caring for senior dogs and smaller dogs is important during winter months. They tend to be more sensitive to colder temperatures and weather conditions. This also includes dogs with shorter hair or shorter legs as well as puppies. 
Cold weather tips include limiting the amount of time your pet spends outside. Don't leave your pets outside for extended periods of time when the temperatures drop. Leaving them outside for too long can result in hypothermia or frostbite. 
Make sure your pet has a safe pathway to use the bathroom outside. Remove ice and snow to make this easier for them. 
Never walk your pet over a frozen body of water, as it could break beneath their weight. It's also important to not leave your pet in the car when you run errands.    
2. Bring Your Pet to Their Annual Check-up 
This tip is important during any season and involves finding the right veterinarian. All pets should have an annual visit and get up to date on their vaccines. An annual exam helps to identify health conditions and offer relief treatments. 
Colder temperatures can impact a pet with certain medical issues. Dogs with arthritis may get worse with cold temperatures. A veterinarian's tips on pets and cold weather will help ensure your pet's comfort and safety. 
Conditions like heart disease, diabetes, and kidney disease also need special attention. Dogs may have issues with keeping their body temperature regulated. If you notice symptoms of these diseases, bring your pet in for an exam right away. 
3. Inspect Your Pet for Signs of Discomfort
To ensure cold weather pet safety, always watch your pet for signs of discomfort. This could be a pet that limps or doesn't walk on a certain paw. 
It helps to also check your dog's paw pads. They can become dry and cracked during the winter. This can even lead to bleeding or sores. 
Ice and snow can become lodged between their toes and the hair between their toes can also become frozen and matted. It's best to inspect your pet after an outside walk. 
It's also important to clean your pet's feet after a walk. They can pick up chemicals from de-icers and salt from the road and sidewalks.  
Dry indoor temperatures also may bring about new skin conditions for your pet. Inspect their skin for signs of flaking and keep them well hydrated.  
Be on the lookout for any signs of hypothermia or frostbite. This includes shivering, lethargy, and a lower heart rate. Bring your pet to the veterinarian right away if you notice these symptoms. 
4. Stock up on Pet Essentials 
Snowstorms and icy roads can make it difficult to get to the store. These extreme weather conditions may also cause power outages or other issues. 
This makes stocking up on important pet products one of the smart winter pet safety tips. Make sure your home is well-stocked with pet food and any medicines they need. 
This includes heartworm medicine and a plan for keeping ticks off your pets. You'll want to keep up with heartworm, flea, and tick medicines during the winter months as well. It's also a good idea to have bottled water available in case of an emergency.     
5. Offer Warmth and Comfort All Winter Long
Other cold weather tips for pets include making sure your dogs or cats stay warm enough. Always dry your dog off if they get covered in snow when outdoors. 
Many pet owners dress smaller dogs in coats before bringing them outdoors. This is helpful for pets with shorter legs as well. Booties can also help keep your pet's feet warm and protected from compacted snow and ice.  
For pets who sleep in a dog bed, be sure it's placed in an area of the home that stays well-heated. You can also offer a blanket if you keep your home colder at night. 
Your home should stay at a comfortable temperature for pets who are home alone during the day. Many people choose to lower the heat during the day to save on costs. Yet, lowering the temperature too much can be uncomfortable or dangerous for pets. 
Another tip is to avoid keeping poinsettia plants in your home during the holiday season. These may be pretty but are toxic when ingested.
You also want to always check the wheel wells of your car before starting the engine. Cats sometimes use this as a place to stay warm in the winter.  
Weather Safety Tips for Enhancing Your Pets Wellbeing  
Winter wellness is as important as keeping a pet safe from extreme heat in the summer months. These weather safety tips will keep your pet healthy and happy through winter.
Proper protection and veterinarian checkups will ensure the health of your pets. Learn more about how Windmill Animal Hospital can help care for your pets all year long.